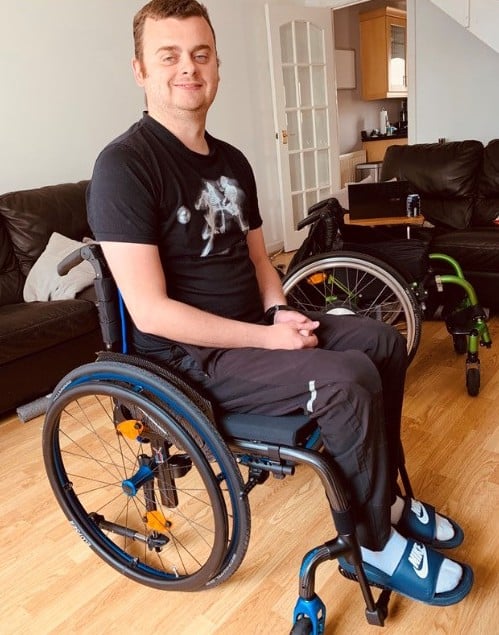 Alan Fergusson our Fast Aid Product Specialist, had the pleasure of delivering the Quickie Krypton F Carbon Folding Wheelchair to a happy customer Marcus in Aberdeen.
Alan previously visited Marcus to give him a demonstration on the product before he made the decision to purchase it.
At John Preston we offer demonstrations on both the Quickie Krypton F and the Quickie Krypton R both at home and in our showrooms.
Quickie Krypton F
The Quickie Krypton F is made from commissioned carbon. It is a convenient folding frame chair, folding horizontally for a more compact size. The cross brace is the most advanced ever from Sunrise Medical, helping the Krypton F be the lightest adjustable wheelchair in the world.
The wheelchair weighs 8.3 kg and it was created from the most advanced carbon technology available, producing a staggering strength-to-weight ratio.
The Quickie Krypton F also comes with carbon options that complement the frame tube to cater for many demands and preferences. It is a bespoke item made to the exact specification of the client, meaning it will be designed and built to your individual requirements.
Key features
Lightest folding wheelchair
Compact transportation size
X-Braid carbon frame
Lightweight carbon construction
Over 10,000 configuration options for a perfect custom fit
Range of carbon options to meet all needs
Choice of three colours and four frame finishes
Lightweight, compact wheel lock as standard
Max user weight: 110kg (17 stone)