Tommy recently received his new JOSI Wismi buggy to explore the local countryside with his family in the Scottish Borders.
The JOSI-Wismi rehab buggy is a multi-sport stroller that can be used for outdoor activities including cycling, jogging, skiing, and hiking. The rehab buggy is designed for children and young adults with mild to complex special needs.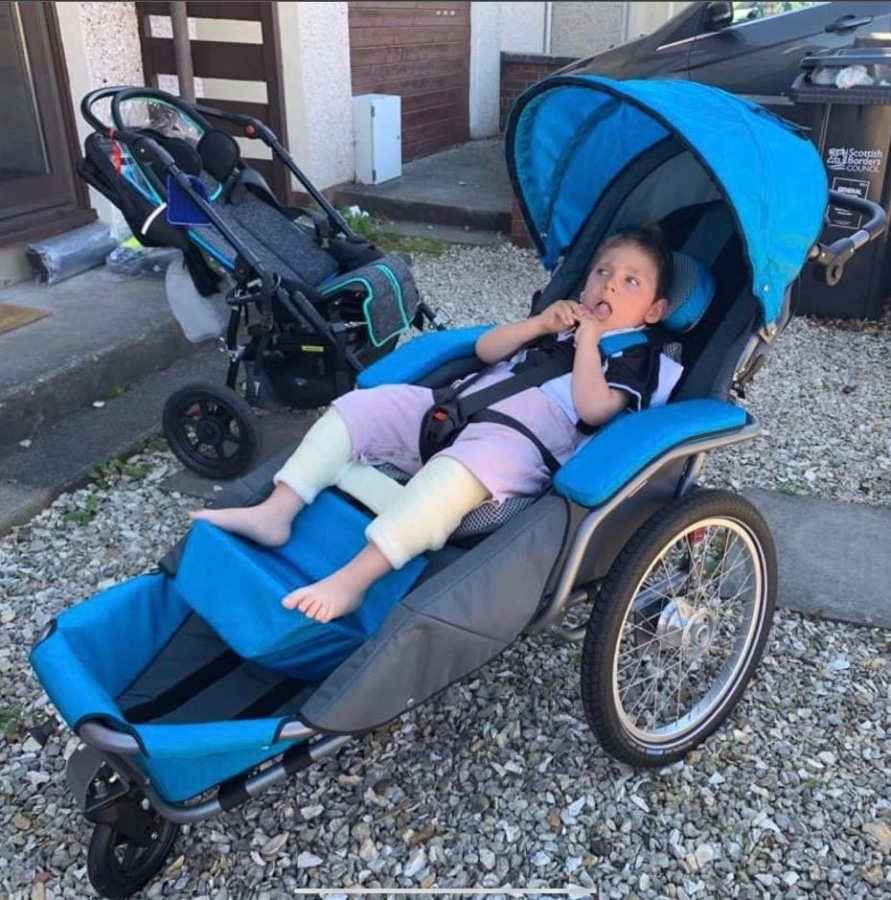 The JOSI-Wismi features 20″ rear wheels, a 12.5″ front wheel, and an adjustable suspension that makes gliding over different terrains a joy to experience. The standard integrated seating system is suitable for many users and can be customised with additional options  including a headrest, pommel and thoracic supports that can be used to achieve a closer more supportive fit.
The Wismi buggy comes in 3 sizes – As a rough guide, the size small suits users up to approximately 1.2 metres, Medium up to 1.5 metres and Large up to 1.75 metres.
Sizing Guide 
Key Features
Multi-purpose stroller: buggy, jogger, bike trailer (optional)
Unique folding system
5-point belt
Suspension
Integrated Adjustable seat system and positioning aids (optional)
Choice of colours- red, green, blue, violet, pink, grey
3 sizes available – S, M and L
Can tackle different terrains- from snow, gravel and mud
Made to order in approx. 4-6 weeks
Product components
Aluminium tubular frame
Two rigid wheels in the back, one wheel in the front
Integrated seat unit
Padded upholstery
Integrated footrest
Lower leg length adjustable
Front tires – plastic rim with PU tires
Rear tires – Aluminium rims and hub, stainless steel spokes
Bicycle drawbar with adapter system